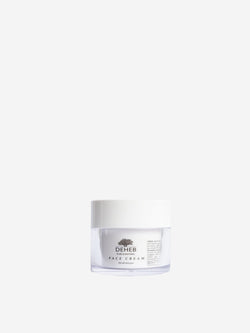 Do you want to optimally prepare your face for a new day?
Check out our Face Cream!
The power of our Face Cream
Our Face Cream is a nourishing cream, exactly what your skin needs. The cream is rich in, among other things, vitamin E and antioxidants.
The cream feels a bit greasy at first, but within a few minutes the cream will be absorbed and your skin will look fresh.
Due to the presence of various vitamins, the cream provides deep nourishment to the skin and good hydration. This makes the cream suitable for all skin types and is used by many women as a basic care to start and end the day.
The result
Within a few weeks you will see the result of our Face Cream; skin feels soft, looks healthy and wrinkles are reduced. A healthy shine due to the natural ingredients, how nice is that!
How to use
Our Face Cream can be used in the morning and evening. Always apply the cream on clean and make-up free skin. This way the cream can work well and do its job.
Massage the cream over the entire face with your fingertips.
Combine the cream with the DEHEB Face Scrub for best results.
Op werkdagen voor 17:00 besteld, dezelfde dag verzonden. Gratis verzending vanaf €60. Standaard verzending €6,95.
Retourneren van de bestelde producten kan tot
 14 dagen na ontvangst indien de producten in ongebruikte staat verkeren.